Try a Preliminary Court Records Search by Entering as Much information as you can in the fields below and click "search now"
+ See Acceptable Use Policy and Terms at the Bottom of this Page

Process for ordering court records works in Michigan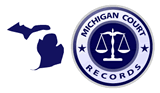 You can order for court records works in Michigan as the state of Michigan Division for vital records has full records of births, marriages and deaths that have occurred in Michigan. These were filed in order with the state from the year 1867. The state has kept Michigan divorce records since 1897.
All the checks or money order are supposed to be paid to the state of Michigan. Personal checks are also accepted. The applicant can place orders via phone, fax or the world wide web. A major credit card can be used to pay an extra fee of five dollars.

If you require an additional copy of the record, you can order it for an extra fees of four dollars each. You may also call or visit the official website to confirm the current fees.
For birth records
You need to pay $13.00 for birth records from 1867. In Michigan, access to birth records less than 110 years old is not allowed. However, the copies may be required only by a person named on the record, their legal guardian or representative. The heirs can also apply. The inclusion of the person's name, date, place of birth, full name of mother, full name of father and the reasons for the request should be given.
For death records
For death records from 1867, you need to pay the fee of $13.00 and understand that the access to these records are open to everyone here. You need to include the full name of the deceased at the time of death, date and place of death and full names of the parents of the deceased.
For marriage and divorce records
For marriage and divorce records from 1867 onwards, the cost of each copy will cost thirteen dollars. One needs to include full names of the bride and the groom including the bride's maiden name. Once can also obtain divorce records from the county clerk in the county where the divorce was issued.
For further information on legal records, you can visit the state's official website at the following address: www.michigan.gov
Entry Filed under: state court records