Try a Preliminary Court Records Search by Entering as Much information as you can in the fields below and click "search now"
+ See Acceptable Use Policy and Terms at the Bottom of this Page

Process for ordering court records works in Georgia
The money order that you send should be payable to vital records. Personal checks are not accepted. You may call or visit the official website to confirm present fees. All the requests you make should include a picture copy of the official photo identification of the requestor.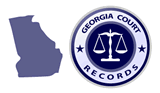 For the birth records from the year 1919 and onwards, you need to pay ten dollars. To obtain birth records earlier than the above mentioned year in Atlanta or Savannah, you need to give a written application to the office of vital records in county where the event occurred.

For obtaining death records from 1919 and onwards; you need to pay about ten dollars and these certificates are available to public in Georgia without any restriction. You should include the following information with your request.
a) The full legal name of the deceased
b) The date of death
c) The place of death
d) The sex of the deceased
e) The relationship to the person named on the death certificate
To obtain death records earlier than 1919, you need to provide a written application to the vital records office in county where the event has actually occurred.
If you want to obtain divorce records, you need to visit to the clerk of the superior court in the country where the divorce was actually granted.
You can get marriage records from June 1952 to 1966 at the rate of ten dollars. Usually marriages are recorded in the court of ordinary. This court is also known as the probate court. The marriages are recorded in the county of residence of the bride. Most of the early county marriages records are usually available on microfilm at the Georgia archives. However, early marriage licenses include little genealogical information.
For further information on legal records, you can visit the state's official website at the following address: www.georgia.gov
Entry Filed under: state court records