Try a Preliminary Court Records Search by Entering as Much information as you can in the fields below and click "search now"
+ See Acceptable Use Policy and Terms at the Bottom of this Page

Process for ordering court records works in Pennsylvania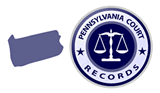 All the checks and money order must be paid to the Division of vital records. They accept all personal check. You need to call or visit the website in order to verify the current fees.
Birth records
All birth records in Pennsylvania from January 1906 onwards can be bought at four dollars. The access to birth records in the state is limited to only immediate family members and legal representatives.

Any other family member can get a copy of this certificate only when the individual is deceased and a copy of the death certificate is produced in conjunction with the request you should also include the name of the individual as written on the certificate, date of birth, place of birth, father's full name, mother's full maiden name, your relationship with the individual, the reason for request, your daytime telephone number with area code, your handwritten signature and complete return mailing address with the request.
To get records earlier than January 1906, you need to write to the Register of wills, orphans court, in county seat of county where the event has actually occurred.
For marriage and divorce certificates, the dales and costs of each copy may vary. You can send your records at the following addresses:
For marriage records:
a) The marriage license clerk for the county court house where the license was issued
For divorce records:
a) The Prothonotary for the county court house where the divorce decree was granted
For more details on ordering court records works in Pennsylvania, you can visit the official website at the address mentioned below: www.state.pa.us
Entry Filed under: state court records