Try a Preliminary Court Records Search by Entering as Much information as you can in the fields below and click "search now"
+ See Acceptable Use Policy and Terms at the Bottom of this Page

Process for ordering court records works in Mississippi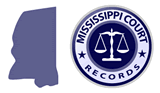 When ordering for request outside the state, remember that only bank or postal money orders are accepted. These should be paid to Mississippi State Department of Health.
All personal checks are accepted but only for requests inside the state. You can also place your order through phone with a major credit card via paying an additional charge of five dollars. The current fees can be confirmed via the official website.
For birth records from November 1, 1912, long forms cost twelve dollars and short forms cost seven dollars. The birth records in the state are not considered public documents. The certified copies of these records are kept under the custody of the State Department of Health. Additional copies of these records can be ordered at same time via paying three dollars extra.

To apply for death records from November 1, 1912, you need to contact the State Department of Health. Here you need to produce tangible interests such as the subject already named on the record, an immediate family member or a legal representative. You should also mention the relationship with the subject and the reason for applying the request.
For marriage and divorce court records from 1926 onwards, you need to pay $10.00 and $6.00 respectively.
For more details on ordering court records works in Mississippi, you can visit the official website at the address mentioned below: www.mississippi.gov
Entry Filed under: state court records