Try a Preliminary Court Records Search by Entering as Much information as you can in the fields below and click "search now"
+ See Acceptable Use Policy and Terms at the Bottom of this Page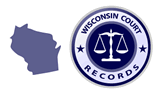 Process for ordering court records works in Wisconsin
To obtain birth records
The cost of each copy would be around twelve dollars each. According to the state law, only the individual named on the record or the immediate kin can access the record. A person with written permission from the individual on record or the family member can avail a certified copy of this record. The non certified copy of this record is open to anyone who applies for it. The request should be accompanied by the following information:

a) Full name of the individual as mentioned on the certificate
b) Father's full name
c) Mother's full maiden name
d) Place of birth
e) Date of birth
f) Your relationship with the individual
g) Your name
h) Your address
i) Your daytime telephone number with area code
j) Your mailing address
k) Your signature
For death records
These records are available to only the immediate kin of the person named on the certificate. A non-certified copy can be availed by anyone who applies for it. You need to enclose the name of the individual on the record, date of death, place of death, your relationship to the individual, the purpose of your request, your daytime telephone number with area code, mailing address and signature with the application.
For marriage certificates and divorce records from April 1836 and October 1907 respectively, you need to pay seven dollars each and mention the name of the couple, your relationship with them, your mailing address, your telephone number, date of marriage or divorce, place of the licenses issued and your signature with the request.
For more details on ordering court records works in Wisconsin, you can visit the official website at the address mentioned below: www.wisconsin.gov
Entry Filed under: state court records