Try a Preliminary Court Records Search by Entering as Much information as you can in the fields below and click "search now"
+ See Acceptable Use Policy and Terms at the Bottom of this Page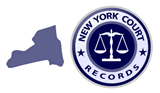 Process for ordering court records works in New York
Here are some easy steps to order court records works in New York:
a) First, you need to write a letter. In this letter, all records should be mentioned very clearly. Try to indicate the subject matter and places, names, dates etc. The letter should be more precise and accurate. This will provide you an immediate response.

b) The letter should be sent to the records access officer of the agency. The mail delivery may get delayed for some days or weeks, so you need to tax the request once you mail it. The copy of the letter and a record of the Fax transmission should be saved.
c) You should wait for the response to your request. In case, the agency does not respond to your request within five business days of receiving it, the request may be denied.
d) You need to write an appeal wherein you must ask the appeals officer of the agency to review your request and its decision to deny. The appeal letter you write should consist of the dates of the requests and denial. It should also contain the reference to the record that was denied, the name of the record access officer, return address and name. You must include a valid reason on why the denial was wrong.
e) You should be patient and wait for a response to your appeal. The agency has about ten business days to explain upon receipt of your appeal.
For more details on ordering court records works in New York, you can visit the official website at the address mentioned below: www.ny.gov.
Entry Filed under: state court records